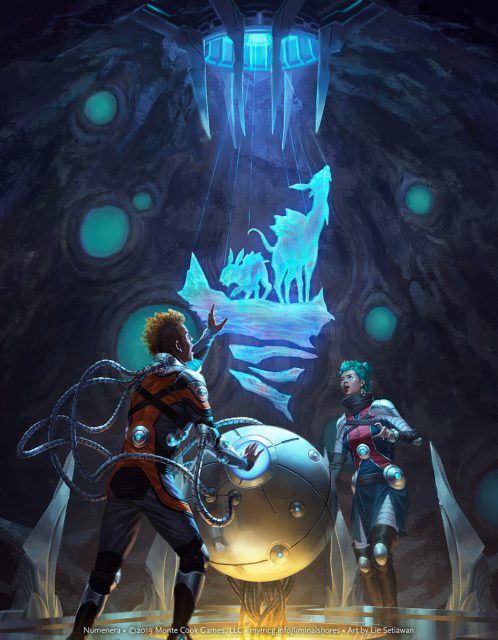 (Did you miss part 1 of Reach of Ghosts? You can start the story here!)
Nalliana is already standing next to some strange devices. There's a black glass screen and some flat round plates around it. She touches a few of the plates with a sort of brush-stroke motion with her fingertips, and the black glass screen becomes a green glass screen with floating symbols on it.
Magic. I sigh.
Then she moves over to some other contraption affixed to the wall. No, to the ceiling. She pulls on it and it bends in multiple places like a spider's leg.
"Found you!" She's talking to another device similar to the other one, and pulls it forward. It bends with a quiet creak of old metal joints.
I suddenly get a wrench in my gut. She's pulling the end of the thing toward her face. That's exactly what Mal did. I lunge forward, propelled by instinct given life by memory.
Horrific memory.
"No, don't," I say, and push her aside. I'm not going to let the datasphere—whatever the hell it is—kill her too. She's not ready for her friend to give her a shove and she topples. I'd feel bad, but I don't have time.
I don't have time because in pushing her away, I've put my own eyes right in front of the blue light at the end of this metal arm. And then, I'm somewhere else.
Words. Images. I can't make sense of any of them. Numbers? Nothing makes sense and it's all coming at me faster than I can process. I would say that it's all foreign to me, but that's not even a strong enough word. I'm looking at languages that I wouldn't even believe were languages, except that somehow I know that's what they are. I'm seeing things that certainly weren't created by people as I understand the term.
And what's more, it's the whole world. In every direction, it's like the ground and the sky are made of words and images. Everything here is information. Am I just information? I don't know.
But Mal wanted to find this vertice with a particular goal. Something he saw showed him a glimpse of this location and something important here.
And no, before you ask, it's nothing like being on stripe. That was just calm and ease. This is almost the opposite. So much . . . everything.
If Mal said it was important, then it is important.
So I try to get my bearings. I try not to throw up bread and cheese. I try to determine what's up and what's down, and soon figure out that there's no such thing, and so then I try to adapt to that instead.
It takes hours. Maybe longer. But I learn some things. I learn how to move in this strange place. I find paths I can navigate, after a fashion. I find that they lead to places (is that even the right word?) where there's sometimes an image I can understand. Sometimes even a few words, or at least concepts that I think the words describe. It's all very . . . other. Like how I imagine a desert rat would feel suddenly submerged deep beneath the sea.
I see a place. A real place—not a datasphere place. I see tall structures, but then realize that they're not buildings but instead giant fruiting bodies. Or maybe they're both. And there's a huge crystalline tower and it's firing lighting back up into the sky as surely as it comes down from the clouds to strike the earth. And there are people there. I'm not sure they're human, but they're people nonetheless. Flying on metal wings.
I know this place exists right now—not in the Prior Worlds—and I know how to get there.
But I keep looking. More hours pass. I keep looking. I want to make sure that we find what Mal wanted to find here. He can't ever do it, but I can do it for him.
Almost as if on cue, I see movement here in this world. Not in the images, but someone or something moving down the paths like I have been doing.
Is this one of the things that killed Mal? He talked about ghosts before he died. Ghosts in the datasphere.
I'm so terrified I can't move. I find myself fading into the words and images around me. I will myself to sink in further.
The thing—I don't know what to call it—seeps past me like a slow-moving wave. A wave with dozens of long, flexible arms. It touches everything it passes, as if it is seeing with its limbs.
It passes right by and continues on.
Size is difficult to judge here. Maybe it doesn't even have any meaning, but I can't help thinking about how huge that thing was. I wouldn't have thought to call it a ghost, but I've not the poet's heart that Mal had.
Submerged in the information in my hiding place, I see something new. A new image, but like before I know it's from the real world, and from right now. I see a huge metal city, but it doesn't rest on the earth, but instead floats in the night sky. Except it's not night—I can see the sun clearly beyond it. And the sun is immense. Ten times, maybe a hundred times larger than normal. So what I'm seeing is something that is close to the sun. I'm not so thickheaded that I can't figure at least that much. And this floating city must also be just shockingly large. Not a city at all. A whole metal world of a sort. And it's doing something to the sun—
And then I see Nalliana's face.
She's calling my name, and shaking my shoulders. She's a million miles away, but getting closer and closer. We're in a dark room lit by a glowglobe and I'm laying on a smooth synth floor.
I see the datasphere interface device hanging from its spider arm above me.
"I'm okay," I manage to whisper, prompted by the look of concern on her face.
Talrung's big hairy face pokes into my view. "You okay, friend?"
I just said I was.
I want to ask him why he's not up top, but then I realize a lot of time has passed. I try to ask how much.
"You interfaced with the vertice about twenty minutes ago," Nalliana says. "I pulled you free right away, but I couldn't wake you up until now."
"Minutes? You mean hours."
Talrung shakes his head. "I just came down to check on you."
Weird.
"I'm just glad you're all right," Nalliana says with a pat on my shoulder. "You just rest here. I'm going to interface."
"No," I say. "There's something in there. Just like Mal said. The thing that got into him. The thing that killed him."
"But we need to learn—"
"I found it. I found what Mal would have come here to find. New places to travel—new discoveries to be made. And I know how to get there. Even the one . . . very far away."
"Are you sure?"
"I am. I knew him, Nalliana. I know what he wanted. He wanted to learn some big truths. And if we go where this information leads us, well, that's exactly what we'll find."
"All right," she says. "I trust you."
"Trust Mal."
"I just hope it's warm there," Talrung says.
I stand up, which takes a minute to remember how to do. Remember what solid ground feels like under my feet. Remember what up and down are.
After asking me a few more times if I'm okay, the two of them finally help me climb out of the pit.
Back up into the cold.
Any heat the machine produced to create the pit has been long since dispelled but the wind has diminished.
We make a small fire and a meal, and use what's left of Talrung's whiskey to toast our success. And to our long trek still ahead.
I toast to Mal.
***
---
About Monte Cook
Having worked as a professional writer for almost 30 years, Monte Cook can honestly say that he's never had a real job. As a game designer, he's worked on hundreds of products, including as a codesigner of D&D 3rd Edition, and designer of Heroclix, Return to the Temple of Elemental Evil, Ptolus, Arcana Evolved, Numenera, and so much more, including a number of Planescape products, Call of Cthulhu d20, Monte Cook's World of Darkness, a whole bunch of d20 stuff, and—going way back—products for Rolemaster and Champions.
As a fiction writer, he has published numerous short stories and two novels, The Glass Prison, a heroic fantasy set in the Forgotten Realms, and Of Aged Angels, a modern day conspiracy and paranormal tale. He attended both the prestigious Clarion West SF&F writer's workshop and the NASA-funded Launchpad workshop. As a comic book writer, he has written a limited series for Marvel Comics called Ptolus: Monte Cook's City by the Spire, as well as some shorter work. As a nonfiction writer, he has published the wry but informative Skeptic's Guide to Conspiracies.