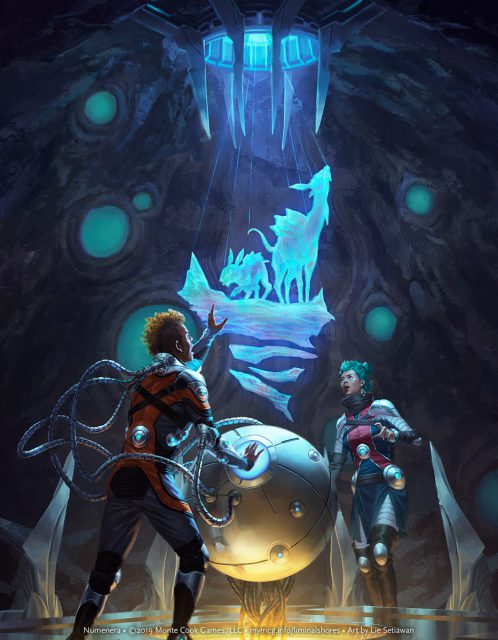 Have I ever been colder than I am right now? I doubt it.
So far from home. It feels like a million miles. It feels like an eternity.
The snow and ice stings my face and eyes, thanks to a wind like the breath of an angry god.
"How much farther?" Talrung asks, shouting over the howling.
"You know the answer. Just shut up," I reply. I don't know if he hears me. Don't care.
The answer, of course, is, "We don't know." Nalliana's device gives us a direction to walk, but not a distance. It might still be another eternity. And it might get even colder. We don't know.
South. We just keep going south. I wonder if anyone has ever gone this far. The deserts of Pytharon and Matheunis are far behind us now. I wonder if the people of the prior worlds ever even came this far. Surely, people so smart to craft the wonders of the numenera were canny enough to stay out of this kind of weather.
Malrick would say, if he were here, that we don't even know if the weather was the same then. Maybe even the land was different. Mountains in different places. Seas different too. Give them enough time, according to Mal, and even the things we think of as eternal change.
And in this world, we know there's been lots of that. Time, I mean.
I don't understand it. Can't seem to wrap my thoughts around the whole concept. To me, the thirty years I've been alive seem like a long time, and my father's fifty-some seem like forever. But Mal would say that our lifespans are nothing. Even the lifespan of our entire kingdom, our entire people is nothing. Compared to the mountains, sure. But he would try to say that even the mountains are nothing to time. I don't understand. Do the mountains get up and walk between the time of the nine worlds? I don't know.
It's all irrelevant nonsense, but it's the kind of thing you think about to keep your mind off the ice growing on your beard and your eyelashes, the painful blisters on your feet from weeks of walking, and the damned wind.
If Mal were here, and we were talking, it wouldn't be irrelevant nonsense. He would make it all make sense.
I miss him.
"Wait!" Nalliana holds up a hand and we stop, the snow up to the top of our boots.
She looks around, shielding her eyes. "It's here."
"Thank god and his wife!" Talrung drops his pack in the snow like an idiot.
I look around. I don't see anything but drifts and blowing snow. There aren't even trees here.
Nalliana is looking down at the ground.
"Now, my friends, the real work begins."
***
We've cleared away some snow and pitched a tent. The ground is as hard as ice, but Nalliana's crafted something for that. It produces a great deal of heat, concentrated like a hot poker.
"Where has that been all this time?" Talrung asks.
No one responds to his complaint. No one explains that this device's heat would kill us faster than the cold around us if we aren't extraordinarily careful with it. It's not like we're going to use it to cook a warm meal or gather around it like a campfire.
I will admit, though, being near that much heat is wonderful. When I was younger, I was hooked on stripe. The fingers of warm softness that I'd feel as it spread through my limbs after a hit—it felt like this. I want to feel this heat forever. I want to walk into the bright white light it emits, even though I know I'd be roasted like a sharlchop. I want it as much as I wanted a hit of stripe.
As much as I want that hit now.
If Mal were here, he'd explain how the desire for stripe became just as much a physical need as I feel now for warmth in this cold landscape.
I'd still be hooked on the stuff if weren't for him. And the time and care he showed me while I got clean. Why did he bother with me? I don't know. I don't know any more than I know why he's not here now.
That's a lie. I know exactly why he's not here.
It's dark, but it's almost always dark. The sun only shows itself for a few precious hours each day and even then it seems weak and pathetic. This land even hates the sun. It sure as crail hates us.
Nalliana works for hours with her machine, getting at whatever lies below the ground here. Talrung and I prepare a meal of bread and cheese, both as hard as stone, and then take turns catching some sleep in the tent while the other keeps a watch. We don't want to have another pack of those furry spider things come upon us now that we're finally here. Although surely even they wouldn't venture out into this wind.
My dreams are short and jarring. Mal's face and his dark, curly hair intrude on whatever I'm seeing, and I suddenly know it's a dream and stir to wakefulness.
I know it's a dream, because Mal can't be there.
Mal's dead.
It was Mal who discovered the thing he called the vertice. Allowed him access to something else called the datasphere. He tried to explain it—he always did—but all that talk of a place made of information just didn't make a bit of sense to me. Still, in his exploration, with Nalliana's help, he learned how to make the machine that led us here.
Thanks a lot, Mal. I give a huff of a laugh.
When I give up on sleep and wriggle out of the tent, I see the heat device has not only thawed the ground but burned it away as well, creating a bowl-shaped hole. Like, literally evaporated away, not melted—there's no residual material at all. It makes for a weird, roasted smell, but the cold wind doesn't allow it to linger. Nalliana and Talrung sit on the edge of the bowl and look warm and happy, with a red in their cheeks I haven't seen for weeks. I join them, but don't interrupt their conversation.
"A hatch," Nalliana says in answer to a question I didn't hear. "Some kind of access point."
"And inside?"
"Well, hopefully—presumably—another vertice like the one Malrick discovered in Pytharon."
It stings to hear his name spoken aloud.
She continues. "He thought this one would contain a lot of really important information. I don't fully understand how the access works, but only certain data is accessible from certain vertices. However—"
"And if Mal said it was important, then it is important," I interrupt.
The look on my face puts an end to the conversation. I feel bad, but then don't think about it. I have other bad feelings to dwell on.
***
(Loving this story so far? Check back on August 12th for part 2 of Reach of Ghosts!)
---
About Monte Cook
Having worked as a professional writer for almost 30 years, Monte Cook can honestly say that he's never had a real job. As a game designer, he's worked on hundreds of products, including as a codesigner of D&D 3rd Edition, and designer of Heroclix, Return to the Temple of Elemental Evil, Ptolus, Arcana Evolved, Numenera, and so much more, including a number of Planescape products, Call of Cthulhu d20, Monte Cook's World of Darkness, a whole bunch of d20 stuff, and—going way back—products for Rolemaster and Champions.
As a fiction writer, he has published numerous short stories and two novels, The Glass Prison, a heroic fantasy set in the Forgotten Realms, and Of Aged Angels, a modern day conspiracy and paranormal tale. He attended both the prestigious Clarion West SF&F writer's workshop and the NASA-funded Launchpad workshop. As a comic book writer, he has written a limited series for Marvel Comics called Ptolus: Monte Cook's City by the Spire, as well as some shorter work. As a nonfiction writer, he has published the wry but informative Skeptic's Guide to Conspiracies.